"For gloss making I was wondering what do I need to add to make it the exact pigment as the mica so it doest just come out sheer or just shimmery?"
This question is raising the issue of how to make a lip gloss less sheer and have more oomph of color.
Typically, glosses are meant to be relatively sheer. This allows the natural color of the lip to shine through, but sometimes we want tons of coverage and color.
The trick to getting coverage in your lip gloss is to add some kind of PIGMENT.  A typical pigment is Titanium Dioxide.  Titanium Dioxide is a white pigment found in many cosmetics, as well as in industrial uses (it is what gives white paint and primers good opacity).
Here are two photos showing how our Lip Liquid Colors have slightly better coverage and less translucency when the Lip Liquid White is added to them.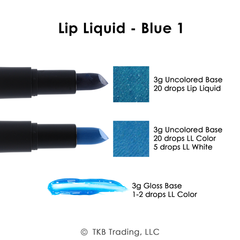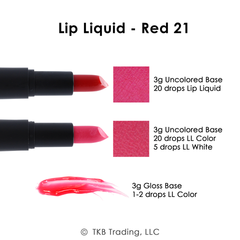 In addition to Titanium Dioxide White, other pigments which could be added to create opacity include the Iron Oxides such as Red Oxide, Yellow Oxide, Brown Oxide, Black Oxide, Sienna Oxide.
Of course, all the pigments will change the color.  In the photos above, you can see that the white pigment makes the product more opaque but also slightly lighter in color.
Another solution for the customer is to "add more color" and in particular to add colors which have a larger percentage of a pigment in them, and colors which have a smaller particle size.  These combined will make for more opacity.